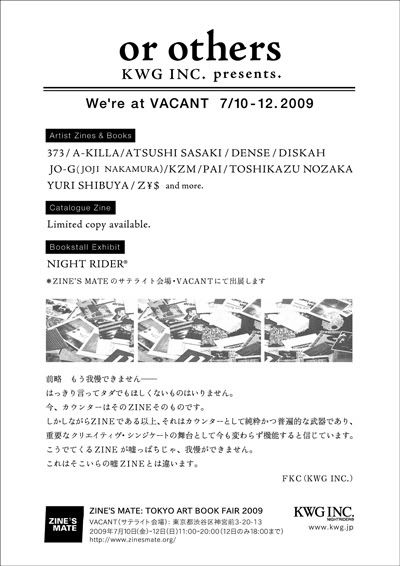 mr KWG of Night Rider offered me join to " ZINE'S MATE, TOKYO ART BOOK FAIR 2009 "
now im first time tryin' to make zine for it............ 
they except me make cool one thats y i was kinda worry 
but fortunately i have alotta good friends who has talent hahah they supported me and 
helped me out! so it'd be cool 
thank uguys so much! i appreciate! 

plus mr kwg, mr iori, mr murata thanks to gave me opportunity for this
to peeps 

please come holler at the art book fair if u have a chance! 


NIGHT RIDER の KWGクンから" ZINE を作って、ART BOOK FAIRに参加してみない?"って 誘ってくれて
期待してくれる分カッコイイものが作れるかどうか心配だったんだけど
だけど幸運にも私にはちょぉぉおおカッコイイ友達が沢山?!いて ;D そんな彼らがサポートしてくれて、助けてくれて。。。。
カッコイイものができそうなんだ

みんなありがとう!それとKWGクン、IORIクン、MURATAクンこんなチャンスをくれてありがとうございます。
チャンスがあれば見に来てください!


information