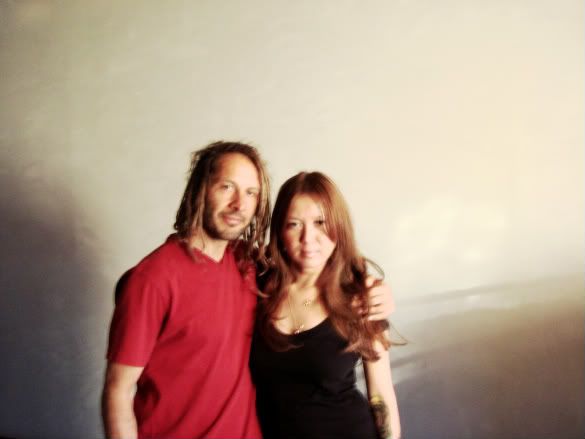 This space is for a show or sum event! like he said " Ow we gotta do sum party for u at here!!! " Hahahahah
I wish it had sum party at there till Im in Cali.....
It was real glad to see yaaaaa☆
He is such a japanessy! Think he was rollin around in JP for surf n stuff more than me!
Hokkaido, Miyazaki, Kyoko oops thiss mah name-Kyoto, Chiba, Tokyo, Kamakura sumwhere else anyway alot! n Prolly he ll come by our store n restaurant when he is in Tokyo! Yea juss holler! oW and His pronunciation is good in Japanese ;q plus he was talkin bout what different between American tatt, Japanese tatt, YAKUZA tatt hahah yea ya rite. da was fuuny
Showin' his rule " To Thine Own Self Be True "
" Electric Chair " Ow Richard sittin' on the death?!?! He made it!
" Miller of Skull " Also this one made by Richard!!!! He is good at everything!!!! huh
n
New authentic ll release !!!!
Beside Alva got a new band!!! " G F P " but damn sry I coudnt find it in youtube!!! I gotta ask it later again